Return to Headlines
April 27 Riverdale Grade School News
Wednesday, April 27
Riverdale Grade School News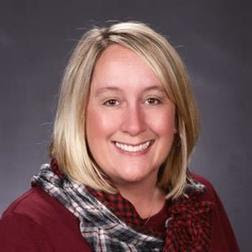 Hello RGS Community,
Here comes May! April has flown by and we are starting to feel the excitement of the last full month. There are so many things to look forward to, including Field Fest, middle school dances, 8th grade promotion and many field trips. Teachers and staff are starting to plan for next year while keeping students engaged and learning while the trees are blooming and sun begins (hopefully) to start coming out.
I have an overwhelming feeling of gratitude as we move toward the end of the year. Today happens to be Administrative Assistant Day. I want to acknowledge these unsung heroes in our building. Tanya and Suzanne are our glue and hold us together. Not only do they manage the huge amount of office work but they also are caretakers of students, staff and the community. We could not have the school we do without these two women keeping all of our systems running. They are a strong team and have kept me afloat this year.
I look forward to seeing many of you at upcoming events and sharing plans for next year.
In gratitude for our community of families, staff and students,
Jen McDonald
Way to go!
Battle of the Books
The RGS ALLY Cats team made it to the fab 4 round this weekend at the regional Oregon Battle of the Books (OBOB) virtual competition. After many rounds of competition, our 5th grade team, made up of Aria, Lilly, Loudon and Yasmine (ALLY), scored 30-20 in their second-to-last round before putting up a tough last battle against Rieke.
A typical battle is a tournament or game, somewhat like Jeopardy, in which student teams earn points by answering questions about the books on the book list. Any school registered in OBOB may send only one team per division to their Regional competition. A student participates by 1) reading from the book list provided for that year's Oregon Battle of the Books, 2) discussing those titles and 3) competing in battles with their teammates.
Robotics Interest Meeting
Please join us for a robotics informational meeting.
Where: GS Commons
Who: Incoming 5-8 families interested in participating in the First Lego League (FLL) Robotics Team and parents interested in coaching.
When: Wednesday, May 18 from 6:30-7:30 p.m.
Learn about Lego Robotics and the FLL League
Volunteer to be a coach or support a RGS team
Talk to a coach from another district
The season kickoff is August 17 with tournaments held between December and April.
This is an informational meeting before a team is formed.
SIGNUPS NOW OPEN
Summer Session at Riverdale Grade School
RGS is pleased to be partnering with Saturday Academy this summer to offer three unique week-long STEAM themed classes for students in grades 1-8. Students may choose from either morning or afternoon sessions for each class.
Morning classes will run from 9-11:30 a.m. Afternoon classes will run from 12:30-3 p.m. All classes run daily.
Grades 1-3: Engineering Adventures, June 14-17.
Grades 4-6: LEGO Robotics, June 20-24.
Grades 7-8: Programming, June 27-July 1.
REMINDER
Paddle Raise Extended until April 30
It's not too late to donate! We are so close to our $86,000 goal, and no contribution is too small. Please consider donating to help us provide much-needed technology hardware and A/V upgrades to ALL our classrooms across the district. We can do this Riverdale!
LAST CHANCE
Order your yearbook now!
If you haven't already ordered your yearbook, use the code 14220522 to order yours on
ybpay.com
today!
The order deadline is Monday, May 2.
Important Dates
Wednesday, May 11 - District Arts Night at RHS from 6-8 p.m.
Friday, May 13 - Teacher Inservice Day (no school)
Monday, May 30 - Memorial Day (no school)
Thursday, June 9 - Last Day of School