Return to Headlines
May 18 Riverdale Grade School News
Wednesday, May 18
Riverdale Grade School News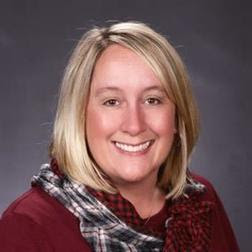 Dear RGS Community,
As I write this, I can't get the song "Let it Go" from Frozen out of my head. Last night, I had the pleasure of attending the RGS play, Frozen Jr. held at the Lakewood Theater. The level of work and talent that went into the production was impressive. I enjoyed seeing students from several grades come together to capture the audience with songs and dance. I know we are all so proud of the work the children put in and would like to also thank the adults who made it happen. We are a special community and this event is representative of that.
With just a few short weeks left of school, I want to acknowledge the PTC for their consistent and tremendous support this year. Not only have they planned several successful community events, this week they are celebrating our staff. The thought and generosity put into this week is heartwarming. We have enjoyed breakfast, a popcorn bar, hero sandwiches, letters from students and decorations beyond belief. Thank you, PTC, for loving and supporting us.
We have a lot going on the next few weeks with state testing, promotion, dances, music on the field, robotics info night, Field Fest, and all that comes with the end of the year. I look forward to seeing you all at these events as we end this year strong.
With gratefulness and a hope for sunshine,
Jen McDonald
REMINDER: TONIGHT
Robotics Interest Meeting
Do you want to drive a robot?
Where: GS Commons
Who: Incoming 5-8 families interested in participating in the First Lego League (FLL) Robotics Team and parents interested in coaching.
When: Wednesday, May 18 from 6:30-7:30 p.m.
Learn about Lego Robotics and the FLL League
Volunteer to be a coach or support a RGS team
Talk to a coach from another district
The season kickoff is August 17 with tournaments held between December and April. This is an informational meeting before a team is formed.
Virtual Meeting
Information on Combating Child Exploitation
Please join us virtually on Tuesday, May 24, from 6:30 – 8 p.m. to learn how the Department of Homeland Security (DHS) is committed to combating the sexual exploitation of children and how our Riverdale community of parents, educators, and children, can stay safe from online predators. Every year Homeland Security Investigations (HSI) and the National Center for Missing & Exploited Children (NCMEC) have seen substantial increases in the reporting of online enticement and child sexual abuse material found online. The COVID-19 national pandemic and an almost 20-month requirement for online learning, plus our kids' increased access to technology at younger and younger ages has only elevated the issue.
Kristen Best, parent of Sawyer (Grade 8) and Alec (Grade 3) has coordinated this presentation with the Homeland Security Investigations (HSI) Cyber Crimes Center (C3) Child Exploitation Investigations Unit and our local HSI Portland, OR office. DHS is a global leader in combating child exploitation and abuse. This presentation will share information about the dangers of online environments, how to stay safe online, and how to report abuse and suspicious activity. This presentation is for parents and educators to have the opportunity to ask questions and engage with policy leaders and investigators who work in this space daily. An in-person presentation tailored for middle school students will be provided to 7th & 8th graders on June 7.
Background: Investigations of child sexual exploitation are among HSI's primary investigative priorities. The sexual abuse of children impacts the most vulnerable segment of our society. HSI knows the importance of education and community awareness regarding the dangers of online activity. Project iGuardian is focused on keeping children and teens safe from online predators through education and awareness. In addition, the iGuardian ™ team is here to help kids stay safe online by providing safety tips, a number to call, and a website with links to more information and resources. Project iGuardian helps kids, teens and parents be smarter about online safety and stay safe from online sexual predators.
REMINDER
Riverdale Grade School Book Swap
What:
Book exchange
Three old books donated = a ticket for one new book
If you don't have books to donate, paperbacks cost 50 cents, and hardbacks cost 1 dollar
When:
May 16th-20th
You can purchase books before school, after school, during lunch, and during library.
Where:
Riverdale Grade School Library
Why:
To give people new books
To engage the community
To help people enjoy reading with new books
Thank you,
7th Grade Leadership Club
REMINDER
2022-23 Class Placement Process
Incoming 1st-4th grade parent input due May 25
Individual student data will be reviewed in order to plan for the best learning environment for each child. We seek to create well-balanced classrooms that equitably represent our student body as well as reflect our greater community.
Parents of students entering 1st-4th grade next year are invited to submit input by Wednesday, May 25.
REMINDER
Community Affinity Sessions
I am overjoyed to share that our Spring community affinity sessions will be held in person at Riverdale High School. It will be a great opportunity to connect with other caregivers. While I know mornings are not ideal for all, I try to alternate meeting times to provide opportunities for people with all kinds of schedules.
No need to RSVP. Please join us for coffee and pastries.
These sessions are only for caregivers, not for students.
Thursday, May 19, 9-10 a.m. in the Riverdale High School Maverick Room
Caregivers of LGBTQIA2S+ Students and Caregivers who are LGBTQIA2S+: This meeting is for caregivers, parents and guardians of students who are Lesbian, Gay, Bisexual, Transgender, Queer, Questioning, Intersex, Asexual, Two-Spirit, Aromantic, Pansexual, Non-binary or have their own label/non-label in regards to their gender or sexual identity. This meeting is also for caregivers, parents and guardians who are in any of the above categories.
Friday, May 20, 9-10 a.m. in the Riverdale High School Maverick Room
Caregivers of Neurodiverse Students, Caregivers of Students with Disabilities, and Caregivers who are Neurodiverse or have a Disability: This meeting is for caregivers, parents and guardians of students who have Dyslexia, Autism, ADHD, ADD, Dyspraxia, Dysgraphia, Dyscalculia, Auditory Processing Disorder, ED, specific learning disabilities, physical disabilities, any other categories under IDEA or a combination of these. This meeting is also for caregivers, parents and guardians who are in any of the above categories.
- Abby Rotwein (she/her), Director of Equity & Inclusion
REMINDER
Special Education Meetup
Please join Principal McDonald and our special education staff on Tuesday, May 24 from 11 a.m. - 12:30 p.m. to discuss our special education program as well as meet other families supporting children with disabilities. This meetup is for parents with children on IEPs, 504s, and those interested in knowing more about individualized learning plans. The event is hosted by Michele Rossolo at her home 1520 S. Mary Failing Drive.
REMINDER
Claim Lost & Found
Please claim lost & found items before Wednesday, June 8. All L&F items can be found on the large coat rack located in the commons or grade school entryway. Anything not claimed before the end of the school year will be donated to charity.
Important Dates
Monday, May 30 - Memorial Day (no school)
Wednesday, June 8 - Last day of school for 8th graders
Thursday, June 9 - Last Day of School